About the Artist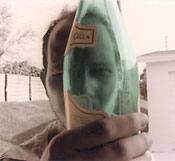 Richard Turansky is a self taught artist who began painting when he was 14 years old. His preferred working medium is acrylics on canvas, but works displayed on this site also include other mediums, such as pastels, watercolors, pen and ink, and pencil sketches. Please visit the art gallery and view the artist's work.
Richard currently has his own Internet Hosting and Design company, RJT Design Studio. He produces web site designs and illustrations, develops database applications and serves as network adminstrator.
His other interests are literature, science, Western and Eastern philosophy and music. He lives in Florida.
Catalog: Artists, Artist Statement, Artist Biography, Painter